OUR CURRENT INVENTORY INCLUDES THESE TRAILERS
Enclosed trailers are better grade. All have upgraded features as standard, see details below.



V-NOSE STYLE FRONT
.030 EXTERIOR ALUMINUM (NOT .024) INSTALLED IN SEMI SREWLESS PATTERN
ONE PIECE ALUMINUM ROOF UNLESS NOTED
FLOW-THRU SIDEWALL VENTS (2) INSTEAD OF ROOF VENT
15" RADIAL TIRES
RAMP STYLE REAR DOOR
32" RV STYLE PIANO HINGED CURBSIDE DOOR
16" O.C. FLOOR FRAMING
16" O.C. WALL FRAMING
24" O.C. ROOF FRAMING
3/4" PLYWOOD FLOORING (NO CHIP BOARD HERE)
3/8"PLYWOOD WALL LINER (NO CHIP BOARD HERE)
ALUMINUM TREADPLATE GRAVELGUARD
LED LIGHTING PACKAGE INCLUDING INTERIOR LIGHT
4" DROPPED AXLE(S) WITH 4 WHEEL BRAKES ON ALL TANDEM AXLE MODELS
ALUMINUM FENDERS
TOP WIND TONGUE JACK WITH SAND FOOT.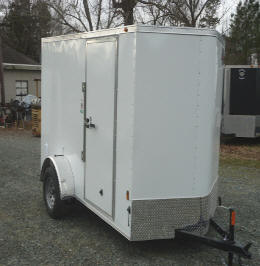 6'x10' (3500# AXLE)

BRAND: CARGO MATE/CONTINENTAL CARGO COLOR: WHITE YEAR: 2022
PRICE: $4775
STATUS: IN STOCK

ROOF ON THIS TRAILER IS GALVALUME
BARLOCK ADDED TO CURBSIDE DOOR
RAMP STYLE REAR DOOR WITH FOLD OUT FLAP
FLOOR AND ROOF FRAMING ON THIS TRAILER IS 24"

FINANCING AVAILABLE WITH APPROVED CREDIT


6'x12' (3500# AXLE)

BRAND: CARGO MATE/CONTINENTAL CARGO
COLOR: WHITE
YEAR: 2022
PRICE: $4995
STATUS: SOLD

ROOF ON THIS TRAILER IS GALVELUME
RAMP REAR DOOR WITH FOLD OUT FLAP
BARLOCK ADDED TO CURBSIDE DOOR
FLOOR AND ROOF FRAMING ON THIS TRAILER IS 24"

FINANCING AVAILABLE WITH APPROVED CREDIT


6'x12' (3500# AXLE)

BRAND: NEXHAUL
COLOR: WHITE
YEAR: 2022
PRICE: $4995
STATUS: IN STOCK

RAMP REAR DOOR WITH FOLD OUT FLAP
ALL FRAMING THIS TRAILER 16" ON CENTER

FINANCING AVAILABLE WITH APPROVED CREDIT